Surfing online is a favourite activity that often turns up little diamonds. After spending a serious amount of time trying to solve Cluemaster's latest scheme, which was a virus that attacked the computer and the network Batman has established, it was time for me to relax with a cup of coffee and do some beauty research with the computer working.
Because online shopping is really important.
But online shopping is not only an easy process but also a chance to find products you wouldn't be able to find near you. So in one of those moments when you are looking for something but you are not sure what, I stumbled upon and Etsy shop that I found amazing!
Black Widow Balm
is a maker of imaginative cosmetics from Pearland Texas and her Etsy shop is a space filled with one-of-a-kind lip balms and glosses. Shareta, the owner and maker behind Black Widow Balm, launched her Etsy shop in May 2012 after her wish to make a deeply tinted balm which would be good for the lips and work as a lipstick too. Using only natural ingredients and creating everything from the packaging to the scent of the balms, Shareta has established a shop that offers unique lip balms in colours like rosewood, forest green or charcoal, black tinted lip glosses with ultra fine gold or iridescent glitter and an orange mint sugar scrub.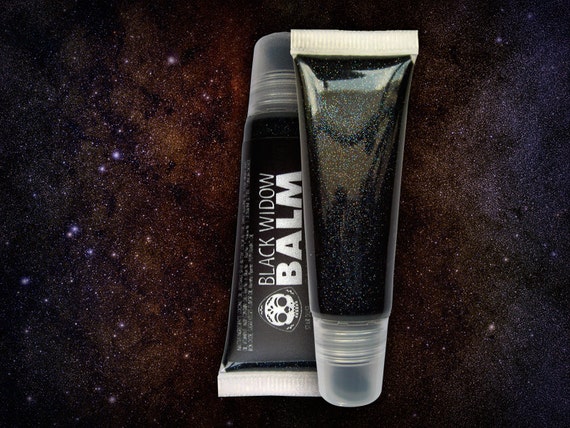 Each product from
Black Widow Balm
is a dream come true and with every purchase, 10% of it goes to a a selected non-profit organization that works with communities to bring about happier, healthier lives to people and animals. I purchased an "Outsiders 3-Piece Sample Pack feat, Spell, Frida and Iron Maiden Colour Balms" and I can't wait to receive it!
I was curious to learn more about Black Widow Balm and contacted Shareta to ask her for a little interview about her and her products! Keep on reading to find out more about the amazing
Black Widow Balm
!
1)Which was your inspiration to start Black Widow Balm?
I first made Ursula, a royal purple lip tint in 2011. I was inspired by the family matriarch from the novel One Hundred Years of Solitude. Books, folklore and pop-culture are where most of my ideas for tinted lip balm and names come from.
2) Which shade was the first you created?
Ursula was the very first shade I created. I was nearly done reading One Hundred Years of Solitude when I thought I should make a tinted lip balm and name it Ursula.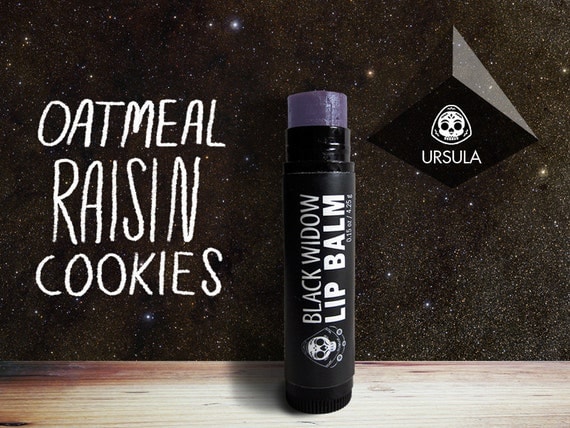 3) You are doing lip products different than others by lovingly creating each lip balm, carefully picking natural ingredients and having a kick ass packaging! What holds the future for the brand?
I want to keep getting better at making high quality products from natural ingredients. I have a goal to include traditional methods for making bath and body potions as I learn them. I want Black Widow Balm to be known as the lip tint brand with a lot of unusual colors made from the best ingredients for your skin.
4) Which superhero would you like to see rocking your balms?
Probably Sailor Moon since she uses moon makeup powers or Jake from Adventure Time because he seems like a dog that's comfortable with his sexuality.
5) Your beauty advice or beauty make-up routine?
What I say about beauty is the same thing we've heard a hundred times or more, but it's true for people who have nice skin. Get a lot of sleep, eat well, drink plenty of water and exercise. Wash your face twice a day and use a daily moisturizer with sunscreen. That's all you need for naturally great skin!
Photographs by Black Widow Balm